We're excited to be nominated for not just one but three Computable Awards categories this year!
Here's a glimpse into which categories we've made it to the final of and why:
Digital Innovation of the Year
We're nominated for our work with MapXact (a VolkerWessels subsidiary). For decades ground radar has been the great promise for soil mapping, to prevent excavation damage to cables and pipes. Interpreting the radar images, however, is such a painstaking job that VolkerWessels subsidiary MapXact almost stopped using ground radar altogether, until they started working with artificial intelligence.Learn more about this case here.
Large Business Project of the Year
This nomination came about for our work with Tata Steel in solving the "needle in the haystack" problem on the pickling line. This is the last step before steel is sold to the market, where at each of the five round-the-clock shifts a human inspector continuously monitors the strip after pickling. Surface defects are flagged and determined according to the type of defect, resulting in inefficient, manual, work in a hazardous environment. Learn more about our work with Tata Steel here.
Tech Startup Category
Our BrainMatter platform is the intelligent automation platform for visual asset inspection and monitoring. Intelligent automation - software based on algorithms with the ability to learn - is revolutionizing asset management processes. BrainMatter intelligently automates the recognition of assets, the interpretation of their current state and initiates actions to resolve issues. Learn more about BrainMatter here.
Votings open to the public until 24th November 2020.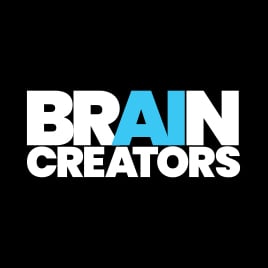 BrainCreators
There is a digital clone behind every human expert BrainCreators is a product company that delivers outstanding SaaS solutions for visual inspection in the form of Digital Inspectors, performing as super-powered employees, enabling businesses to scale more effectively and cost-efficiently. BrainCreators augments human experts with intelligent technology.