BrainCreators will move into 'The Flow', a creative harbor for innovative businesses.
Amsterdam, May 11, 2022 - BrainCreators announces that its headquarters will move from the Prinsengracht to the Flow building at the Houthavens in Amsterdam. The specialist in digital inspectors based on AI technology has outgrown itself in recent years and is taking the next step with this move to give space to its (international) growth ambition.
The new office is located at Moermanskkade 600 in Amsterdam along the IJ lake, next to the harbor. The Flow is a smart building from head to toe, fitting perfectly with BrainCreators' line of business. The building runs on an overarching platform that connects 21 smart building applications as a central brain to provide an intelligent and self-managing structure for optimal sustainability and comfort. All aimed to stay in the flow.
The office is perfectly accessible by bike, car, and public transport within 5 minutes from the A10 road exit and near Central Station. Ample parking for both cars and bicycles is available on site. In addition, there are plans to install a separate ferry service from Central Station.
Jasper Wognum, co-founder and CEO at BrainCreators: "BrainCreators wants to continue to develop, and this step does justice to our current and future ambitions. To continue to grow, we need more space and a place where we can continue to serve our clients optimally. Thanks to the location, inspiring surroundings, and multifunctional workplaces, we now have a true innovation hub that inspires our employees and our clients and visitors."
The new address of BrainCreators is Moermanskkade 600, 1013 BC Amsterdam.
Read the full dutch article here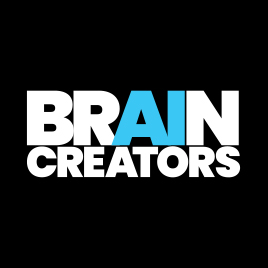 BrainCreators
There is a digital clone behind every human expert BrainCreators is a product company that delivers outstanding SaaS solutions for visual inspection in the form of Digital Inspectors, performing as super-powered employees, enabling businesses to scale more effectively and cost-efficiently. BrainCreators augments human experts with intelligent technology.