Amsterdam, March 21st, 2022 - This year, within the project 'SME Innovation Stimulation Region en Top Sectors', the Province of Utrecht has decided to award the subsidy for a feasibility study to BrainCreators and Luminext. Within the project 'Smart Lighting, predictive maintenance and asset management innovation through Al: the key to Smart Cities', BrainCreators collaborates with Luminext, specialists in innovative lighting technologies, to smartly map the lighting assets of the municipality.
By merging our technology INSPECH and Luminizer from Luminext, we offer a solution to the Municipality of Utrecht to perform digital inspections of street lighting based on video images and using Artificial Intelligence. With this solution, street lights are automatically recognized and classified.

With the development of INSPECH BrainCreators has created a smart platform in which the automatically processed data can be viewed on an interactive map. Specialists of the City of Utrecht can view each pole individually from behind their desk and, as a last check, adjust the outcome of the digital inspection if necessary. This unique combination of domain knowledge and smart technology provides a wealth of applicable insights that will be used to organize the management and maintenance of public lighting more efficiently and enables the municipality to carry-out risk-driven inspections. With this Smart City project, the municipality of Utrecht contributes in an innovative way to a safer public space at lower costs.

Although INSPECH was initially developed as software for Automated Road Inspection, the platform is ideally suited for the management of virtually all public assets as long as the metadata of acquired images are provided with GPS coordinates. With INSPECH, road defects and side objects, traffic signs and traffic lights, but also trash cans and street litter are mapped in one convenient environment from where reports can be generated automatically for multiple purposes. BrainCreators is ready to make Smart Cities even smarter.

Robert Tissing, General Manager at Luminext: "As a company, we are continuously improving the Luminizer platform. Thanks to the cooperation with BrainCreators we will soon be able to add visual inspection to our platform. This will allow us to make maintenance even easier for our customers."

Glenn Brouwer, co-founder and Chief Revenue Officer at BrainCreators: "Thanks to the partnership with Luminext, we can further expand our digital inspectors with public lighting domain knowledge, allowing us to inspect both roads and public lighting faster, cheaper, safer and more efficiently. Moreover, inspectors no longer have to go out on the road themselves because with this smart city solution, they can make decisions from behind their desk based on a dynamic digital twin concept."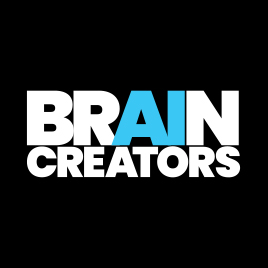 BrainCreators
There is a digital clone behind every human expert BrainCreators is a product company that delivers outstanding SaaS solutions for visual inspection in the form of Digital Inspectors, performing as super-powered employees, enabling businesses to scale more effectively and cost-efficiently. BrainCreators augments human experts with intelligent technology.