IBM Netherlands rewarded BrainCreators with an IBM Ecosystem Partner award during its virtual Night of the Stars Gala.
IBM chose BrainCreators over KPN and Wipro, who were also nominated in the Best New Ecosystem Partner of 2019 category. BrainCreators receives the award for its BrainMatter platform, which it offers on IBM Power9 GPU servers and was the first Dutch partner to sign an ESA (Embedded Solution Agreement) agreement with IBM.
The BrainMatter platform enables companies across infrastructure, real estate, and manufacturing to develop and apply intelligent automation independently. The IBM Power9 servers provide the computing power to create and run many solutions within a single BrainMatter installation. BrainMatter quickly acquires new skills from domain experts, learning from practical examples. All tasks that are eligible for automation also comply with the perceive - decide - respond principle developed by BrainCreators. Transferring the knowledge and skills required to perform these tasks to BrainMatter is accessible to all business units since no technical knowledge of AI and Data Science is required.
Sander Slingerland, Director Global Business Partner Organization at IBM Benelux, said, "BrainCreators is the deserving winner because with the innovative BrainMatter platform they make AI accessible to every company. BrainMatter enables an increasing number of organizations to run existing core processes better and faster. We are extremely proud that IBM PowerSystems is an integral part of this solution."
"We're extremely proud of this award and the recognition by IBM as a global technology player. The past few years, our team has worked hard on the BrainMatter platform," said Jasper Wognum, Co-Founder and CEO at BrainCreators. "With BrainMatter on IBM PowerSystems, our customers can immediately start to roll out large-scale intelligent automation. The excellent cooperation with IBM allows us to grow even faster."
Learn more about BrainMatter here.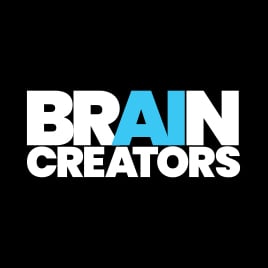 BrainCreators
There is a digital clone behind every human expert BrainCreators is a product company that delivers outstanding SaaS solutions for visual inspection in the form of Digital Inspectors, performing as super-powered employees, enabling businesses to scale more effectively and cost-efficiently. BrainCreators augments human experts with intelligent technology.