BrainCreators, BEMI, and Naaijkens Innovative Design have announced at the Hannover Messe 'SortBotics', a high-tech total solution for e-Waste sorting tasks. SortBotics allows sorting processes to be automated and optimized, enabling companies to sort efficiently, faster and 24/7, saving costs.
SortBotics is capable of recognizing and separating other residual products and waste streams consisting of various objects. A major advantage of SortBotics is that e-waste, electronics waste, and other residual stream categories can be collected, mixed, and sorted at the product level. This ensures maximum recovery of materials per product. In addition, SortBotics analyzes the collected data which leads to directly usable insights and trend analyses.
According to the parties involved, the production and recycling industry has long been looking for solutions to improve sustainable and circular processes. Materials that are currently collected for recycling usually consist exclusively of one or a few product groups, for example, batteries or lamps. As a result, most of the hundreds of products, which consist of multiple materials, cannot be collected separately by companies or consumers, if at all. Moreover, many products, including consumer products, are becoming increasingly diverse and complex which also makes collection and recycling more complicated.
Thanks to SortBotics, all objects with intrinsically valuable raw materials can be identified and selected, making recycling and reusing much more efficient. This was previously not possible with mixed product groups.
SortBotics was created by combining the specific domain knowledge about e-Waste recycling of BEMI, the robot technology of Naaijkens Innovative Design, and the digital inspection technology of BrainCreators. This made it possible to design and train Sortbotics to sort objects at lightning speed. SortBotics now recognizes more than 50 known objects, makes decisions in less than a second and allows for effective and efficient sorting of waste.

Want to know more or interested to become part of our ecosystem?
>> Click here to schedule a meeting with us <<

Read the full Dutch article here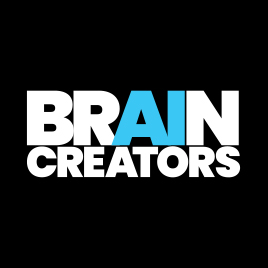 BrainCreators
There is a digital clone behind every human expert BrainCreators is a product company that delivers outstanding SaaS solutions for visual inspection in the form of Digital Inspectors, performing as super-powered employees, enabling businesses to scale more effectively and cost-efficiently. BrainCreators augments human experts with intelligent technology.