Over the last year we have seen a lot of new developments and speculation about how Artificial Intelligence (AI) is going to change the future. What can we expect to see in 2020 from this technology? Here are five of our predictions.
Scaling AI initiatives further
In 2020, organizations will scale AI initiatives further. Organizations that currently only experiment are on the verge of putting AI into practice, since they are seeing evidence of positive results. In a poll that BrainCreators undertook earlier this year with 140 professionals this is also underlined. Once of the results of the poll revealed that 54% of respondents had already implemented Machine Learning strategies within their organization.
Rise of Chief Data & Analytics Officers
Data Scientists are still struggling to collect, transform and prepare the data they need to start a machine learning project. For example, they often have difficulty accessing data because they need permission from an IT Administrator before getting started. Another challenge that Data Scientists increasingly encounter is the decision-making processes. Although data science workflows are becoming more user-friendly, they are not always integrated into a company's decision-making processes and systems. This frequently makes it difficult for managers to share knowledge with Data Scientists. Without that integration, it is difficult for managers to understand why the process from prototype to production takes so long. Moreover, they will not easily support investments in projects that they find too slow.
In 2020 we'll see more and more Chief Data & Analytics Officers, with a top-down mandate, coming forward to circumvent such challenges.
Increasing adoption of 'Power apps'
As companies increasingly transition to working on digital platforms, we will see a rise in the use of 'Power apps'. This means that AI will increasingly become service and application driven, allowing organizations to respond, learn and change faster based on continuous interactions. Through predicting new outcomes and making recommendations, processes and customer experiences improve, allowing organizations to ultimately achieve a competitive advantage.
Disappointment in Natural Language Processing (NLP)
Organizations remain disappointed in Natural Language Processing (NLP). Although NLP applications provide an efficiency boost in answering common questions they are still not able to have a human conversation in most instances. Customers and prospects will continue to require human contact.
The reason behind NLP applications not always being able to help customers is that we cannot provide AI applications with good causal assumptions. Explaining causes and consequences is essential to take the next step in cognitive development, as this is the only way a NLP application make important decisions. Questions such as: 'Does the patient have to use medication A or B tomorrow?' 'Does the company have to adopt policy A or B next year?' A human judgment is still required to give a NLP application explanatory capacity. For the time being, organizations will have to see NLP applications as a handy tool that can only take over repetitive questions.
Confidence in AI will increase further
Governments are increasingly implementing policy provisions to encourage the ethical use of AI. As a result, prejudices are starting to disappear and investments in AI for social purposes will continue to further increase. To further improve confidence in AI in the future, organizations will have to be as transparent as possible. This can be achieved by explaining, for example, why an AI-based decision was made and what the AI ​​decision was based on. As people start to better understand AI models, their trust will grow. Moreover, in this way they can better assess AI models if, for example, they make a mistake.
"I expect that next year the time of experimenting with Artificial Intelligence (AI) will be over for many organizations. After all, there are many organizations that have positive experiences with AI. For them, the upscaling period will arrive next year," said Jasper Wognum, CEO and Co-Founder of BrainCreators. "It is important that organizations work thoughtfully and carefully when scaling up. Wrong choices made on the basis of AI can have a significant impact, for example if algorithms prove to be (unintentionally) biased."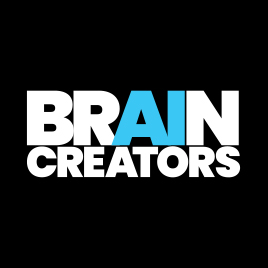 BrainCreators
There is a digital clone behind every human expert BrainCreators is a product company that delivers outstanding SaaS solutions for visual inspection in the form of Digital Inspectors, performing as super-powered employees, enabling businesses to scale more effectively and cost-efficiently. BrainCreators augments human experts with intelligent technology.