UNIHORN
INFRASTUCTURE
INSPECTION
USE CASE
<< Back to use cases

In 2020, BrainCreators and Unihorn announced a collaboration to build a Digital Inspector for visual road inspection.

Digital Inspectors provide immediate insight into which road segments are due for maintenance. If the standard is exceeded, an expert will be informed by means of an automatic ticket, which is then forwarded to a road worker.


| Challenges
Road inspections are labor intensive and a time consuming task
High cost due to high degree of manual work of road inspectors
Subjective results highly depends on individual judgement
Difficult to spot road damage at early stage
Automating visual road inspections are very difficult because of the amount of damages, variety in pavement and likelihood that damage can occur everywhere.


|

Our Approach

BR

AI

NCREATORS AI Platform powers '

IN

SPECH', which aims to detect damage to roads using camera images taken by a specifically designed car equipped with a camera set-up for visual road inspection.

IN

SPECH also uses proprietary algorithms that automatically classify road surface segments in accordance with the guidelines of the CROW or road authorities.
This allows the Digital Inspector to provide immediate insight into which road segments are due for maintenance. If the acceptable standard is exceeded, an expert will be informed immediately via an automatic ticket, which is then forwarded to the relevant road authority. This ultimately enables the inspection of roads to occur faster, more cheaply, safely and efficiently. Additionally, human inspectors will no longer be called out and can make decisions from the office.


Road Inspection
550 kilometers
Digital Inspectors ingest 550 kilometers of captured road video taken by a specially modified car equipped with a camera for visual road inspection.

Damage recognition
12 segments
Digital Inspectors learn to recognize 12 segments of road surface conditions based on the guidelines of CROW or road authorities in days versus weeks.

Initiate immediate action
In seconds
INSPECH users can define rules to initiate follow-up actions when a damage has been recognized, e.g. a notification or signal to an asset management system.
| Present day INSPECH

INSPECH has evolved into a mature Automated Road Inspection Solution that is globally used by civil engineers and road owners. INSPECH now rapidly analyzes the road surface and classifies defects according to local standards. Then, fundamental insights are projected onto an interactive digital map with road sections colored red, yellow or green according to condition thresholds. Road experts use INSPECH to perform a last mile check to automatically generate high quality reports on the road condition. All detected defects can be individually reviewed and edited from behind your desk.

Visit the INSPECH website to learn more and to gain access to interesting eBooks, one of which addresses practical business cases in road inspections (the inspection of rural roads, measuring the lifespan of taxiways and platforms at airports and improving the maintenance of A-lanes).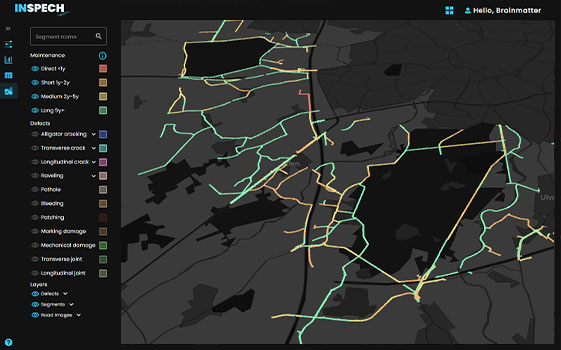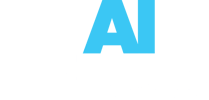 Moermanskkade 600 | 1013 BC AMSTERDAM | The Netherlands | +31 (0) 20 369 7260
© BRAINCREATORS 2022