INSPECH automated road inspection
Regional road authorities spend billions of euros a year on the maintenance of roads, traffic signs, street lights and bridges. The inspection is a time-consuming task requiring a great amount of human effort. Delays lead to more significant problems such as costly repairs, major traffic delays and can even cause accidents.
The earlier issues are detected and more frequently they are checked, the better they can be addressed, reducing emergency repairs that shut down roads and cause traffic jams. By automating road inspection authorities will save time and money and improve public safety.
Digital inspectors for road surfaces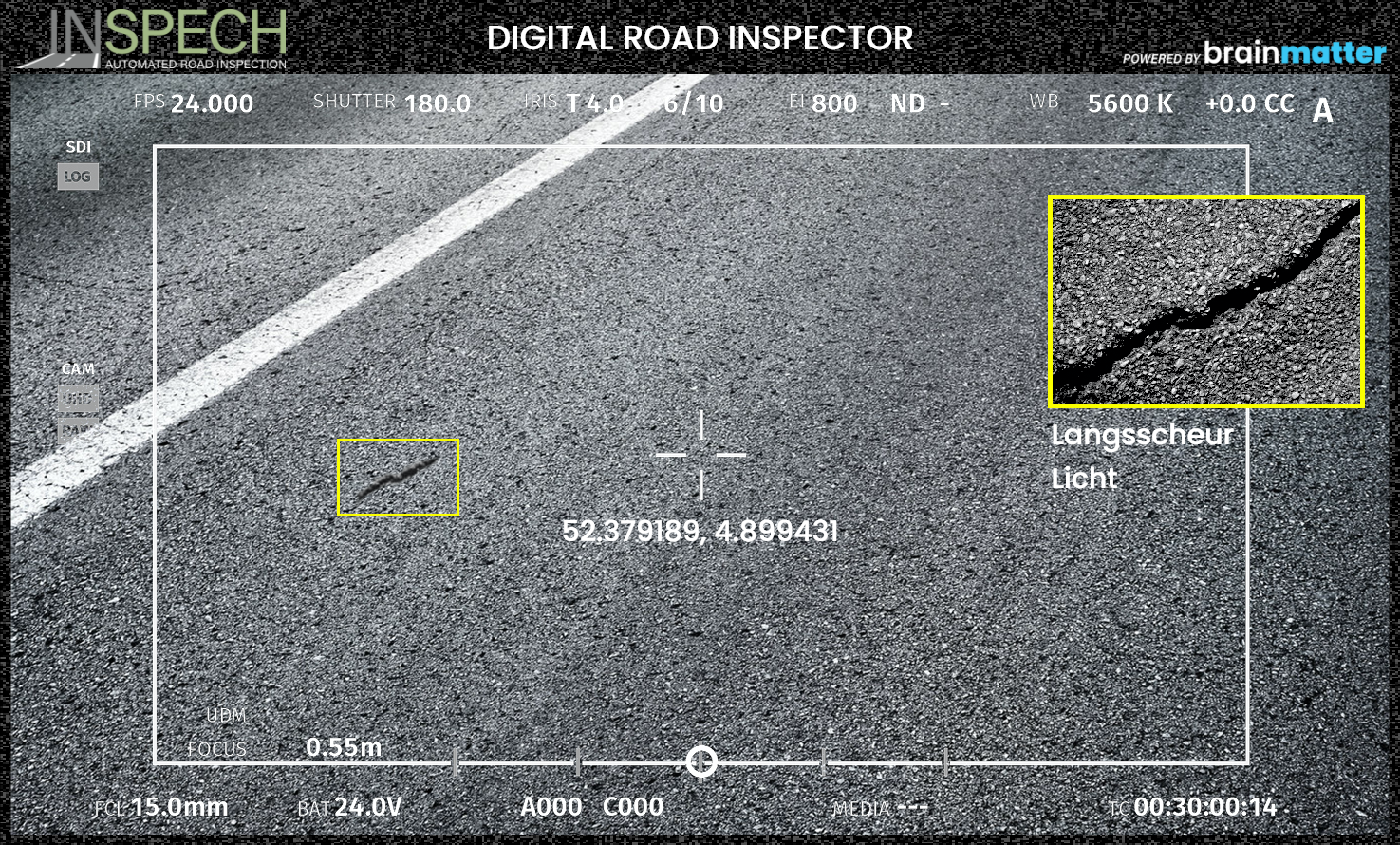 Inspech's digital inspectors, created on the BrainMatter platform perform real-time identification of anomalies, maximize the utilization of human resources, and allow companies to maintain infrastructure at a lower cost.
Eliminate manual footage reviews, exclude the risk of human inconsistency, ensure inspections at the optimal frequency, and comply with regulatory requirements.
Video inspection is a time-consuming, monotonous task
Limited availability of certified inspectors at any given time
Each road inspectors judgment is subjective and often inconsistent if several inspectors are involved
There's significant variability in annotations of road damage produced by humans
Improving speed, consistency, reliability and results of road inspections as a service
Accurately predicting road conditions at an earlier stage
Increasing coverage area per inspector
Visualizing overall road condition results efficiently
Frictionless integration with existing data sources
Reducing road maintenance costs
Achieving safer and more secure road environments
Undertaking video and image analysis by a domain expert
Augmenting work orders for better insights and immediate action
Scaling your digital intelligence throughout your organisation and ecosystem
Continuously improving with a feedback loop
Gaining new insights into road conditions
Exporting to .xls and GIS-format
Reducing manual road inspection time from weeks to seconds
Reacting within seconds to detected road condition changes
Increasing efficiency of road maintenance with improved meantime to repair conditions
Inspech views kilometers of captured road video taken by a specially modified car equipped with a camera for visual road inspection.
Inspech learns to recognise segments of road surface conditions based on the country guidelines in days versus weeks.
Inspech users define rules to initiate follow-up actions when damage has been recognized, such as a notification or signal to an asset management system so a road maintenance work order can be initiated.