Intelligent Automation for fabric cutting
In order to cut fabric
such as leather, synthetic or natural cloth
efficiently, it's important to recognize any imperfections in the pattern of fabric and to work around them when cutting patterns for clothes, upholstery, furniture and airbags.
BrainMatter can automatically detect imperfections and their severity to determine how to cut fabric, as well as deciding which pieces should be used for each part of the pattern cut.
Reviewing fabric manually is time-consuming, mind-numbing and inconsistent
Natural fabrics such as leather require significant zoom in to accurately recognize imperfections
Recognizing enough imperfection classes to let Inspectors focus on the exceptional cases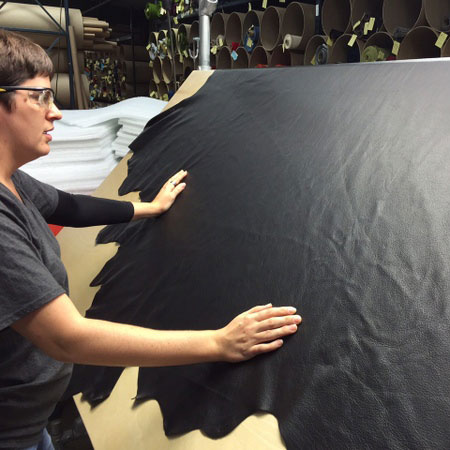 Increasing profitability by hugely improving the amount of fabric used
Reducing waste and increasing sustainability
Easy integration into existing cutting equipment camera's and supporting hardware
Detecting a high number of imperfection classes and the ability to project them on a piece of fabric
Collecting huge amounts of data about imperfections across fabrics and providing better and more efficient nesting as a service to clients
Fabric Inspectors view and curate examples of imperfections
BrainMatter views imperfections on the fabric
Fabric Inspector reviews the new data
BrainMatter learns to interpret imperfections such as bites or tears in leather and judges their severity
BrainMatter localizes these imperfections on the image for the cutting process
BrainMatter interprets anomalies and lets a human Inspector have the final say

Fabric Inspector defines the rules
BrainMatter initiates actions
Evaluate actions and improve over time
Acquiring data from camera's and distributing captured data for annotations
Video and image analysis by the domain expert, leveraging model-assisted labeling
Leveraging AI trained models for real-time imperfection detection of image position, class and severity to create a cutting process at the edge
Deploying the inference within existing/new camera hardware for cutting machines
Expanding and scaling intelligent automation throughout the organization
Continuous improvement with a feedback loop
Significantly reducing the average time to inspect fabric
Reducing waste by optimising the use of fabrics
Increasing margins by using fabric more effectively
Want to see this use case in action?
We'll gladly show you BrainMatter in action
The intelligent automation platform for visual asset monitoring and inspection.

Asset-intensive industries require an integrated physical and digital view of assets, equipment, buildings and processes. BrainMatter provides a platform for the intelligent automation of tasks that follows a perceive - decide - respond pattern.

Request a demo and find out how to improve the quality of life and work by offloading repetitive & time intensive tasks to machines.
You may also be interested in these use cases