Intelligent Automation for fabric processing
To cut fabric
such as leather, synthetic or natural cloth
efficiently, it's important to recognize any imperfections in the pattern of fabric and work around them when cutting patterns for clothes, upholstery, furniture and airbags.
BrainMatter can automatically detect imperfections and assess their severity. These are used to optimize cutting plans, and to decide which pieces should be used for each part of the final product.
Assessing fabric quality manually is a time-consuming repetitive task, prone to human error.
Natural fabrics such as leather require manual stretching to accurately recognize imperfections.
Standardization over error classes across customers is hard to establish with a manual process.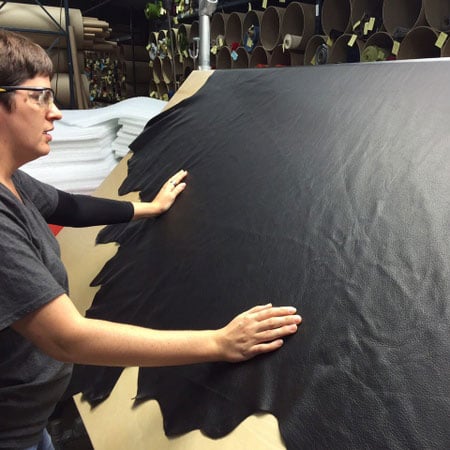 Increase profitability by hugely optimizing the amount of fabric used
Reduce waste and contribute to sustainability
Easy integration into existing cutting equipment camera's and hardware
Detect a high number of imperfections and highlight them on a piece of fabric
Use high resolution imaging to detect defects invisible to the human eye without stretching
Fabric experts can easily review images or videos of fabric on the machine
Known anomalies are marked on the images as quickly and efficiently as possible to create examples
BrainMatter is taught to recognize anomalies and classify them by learning from the example images
BrainMatter interprets images of fabric and recognizes imperfections like bites or tears in a piece of leather.
BrainMatter localizes these imperfections on the image for the cutting process.
A human expert monitors BrainMatter's performance and can suggest direct improvements for the cutting process that Brainmatter learns from to improve the recognition of imperfections.

The quality assessment is turned into actions by suggesting a cutting plan.
Human experts define the rules and boundaries for BrainMatter's output.
Actions are monitored and evaluated for full control over the automation.
Acquire data from camera's and facilitate effective inspection.
Easily and rapidly create examples for BrainMatter to learn from.
BrainMatter learns to detect imperfections in real-time.
Define rules to automatically take action where needed.
Deploy the automation within existing/new cameras and hardware for cutting machines.
Expand and scale by distributing the automation and automate new tasks on the BrainMatter platform.
Stay in control through process inspection tools and optimization of the example sets.
Significantly reduce the time required for fabric inspection processes
Reduce waste by optimizing the use of fabric
Standardize processes across multiple machines and clients
Want to see this use case in action?
We'll gladly show you BrainMatter in action
The intelligent automation platform for visual asset monitoring and inspection.

Asset-intensive industries require an integrated physical and digital view of assets, equipment, buildings and processes. BrainMatter provides a platform for the intelligent automation of tasks that follows a perceive - decide - respond pattern.

Request a demo and find out how to improve the quality of life and work by offloading repetitive & time intensive tasks to machines.
You may also be interested in these use cases