Digital
road inspection
Inspech identifies defects in the road surface in real-time, optimizes the deployment of road maintenance and enables organizations to sustain the infrastructure at a lower cost.
Why Inspech?
Reliable, consistent,
and secure
With Inspech, which can be deployed 24/7, you benefit from a significantly shorter lead time, reducing your costs along the way. The system also detects side objects and you always have access to full reports.

With an annual subscription, it is possible to assess deterioration over time by means of a trend analysis, leading to reliable predictions about surface lifespan and maintenance measures in the long term.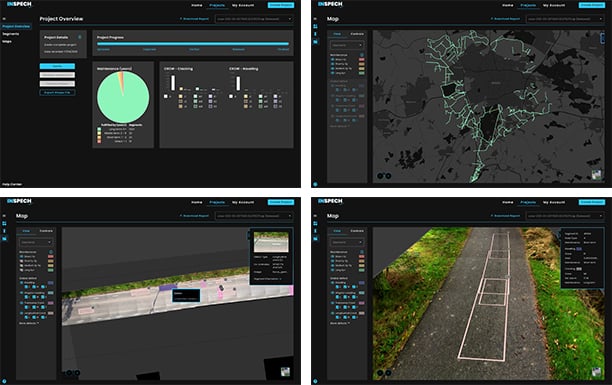 Challenges in road management
Inconsistent inspection results;
Limitations of a human inspector;
Long execution and lead time of projects;
Labor intensive;
No comparison of inspection results over time;
Health and safety guidelines for inspectors;
Visual road surface inspection procedures unchanged since the 80's.
The benefits of working with Inspech
The combination of HD-video footage and Artificial Intelligence makes traditional road inspection less labour intensive;
Inspections can be performed faster and safer;
Inspections are evaluated more consistently and documented more accurately;
Inspech augments the road inspector by automating visual
inspection tasks;
Inspections are less labor intensive.
Inspech automates:
The inspection of asphalt and concrete pavements;
Detailed visual road inspections, in compliance with applicable regulations;
MicroPaver

™

airport pavement inspections;
Minor maintenance inspection;
Winter damage inspection;
Measure and specification inspection;
Inspection for location-oriented maintenance.
Purposes:
Capturing start, intermediate, and end situations;
Demonstrating quality;
Determining and updating fixed data;
Fulfilling the roadmaster responsibilities;
Demonstrating and assessing performance requirements
in area and term maintenance contracts.
From inspection to reporting
How Inspech works
PERCEIVE
Inspech views thousands of kilometers of road footage. Every inch on every lane is carefully examined at high speed.
DECIDE
Inspech recognizes a wide variety of defects, deterioration and anomalies, while keeping track of their exact location.
RESPOND
Inspech processes the detections to generate an interactive report, facilitating decision-making for the long-term management of roads.
1. PERCEIVE
Four HD video cameras and one 360° video camera capture the road surface and the environment.

2. IMPORTING AND PREPARING DATA
Scanned images are imported with GPS coordinates.

3. DIGITAL INSPECTOR
The images obtained are assessed by the digital inspector.

4. RESULTS
Consistently accurate damage assessment, along with damage type, severity class and magnitude, are exported to shapefiles.

5. INSPECTION VISUALISATION
Online geospatial analysis provides immediate insight into the state of the acreage on a clear, interactive digital map.

6. ANALYSING
The automatically generated score (in compliance with applicable regulations) and the matching optimized maintenance planning allow for effective budgeting, to smart schedule risk-based maintenance and to prioritize measures to be taken.
Inspection results
Dashboard
The dashboard offers a complete insight into:
the state of the acreage;
the type of damage;
the damage coordinates;
the magnitude of the damage;
the severity classes.
Inspection results
The digital map
The state of the acreage is visible at a glance on the digital map. Inspech colors road sections according to maintenance deadlines in compliance with applicable regulations and plots individual damage on the map. In addition, Inspech also plots orthographic images on the map so that you can view actual photos of specific road sections from behind your desk.

The inspection results can be exported as a shapefile as well as reports in .csv/.pdf format. The scanned images and inspection results can be viewed in a browser application at any time.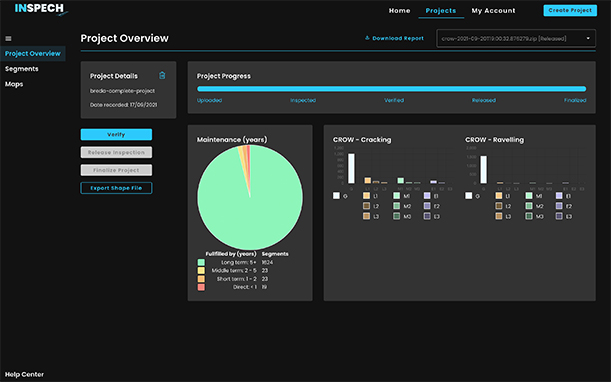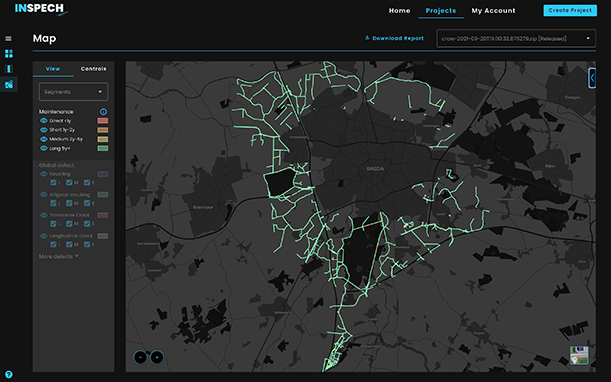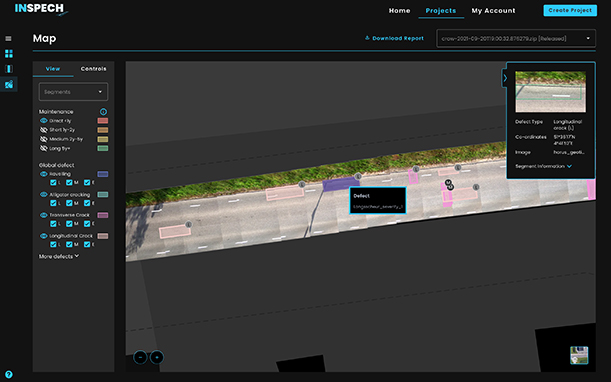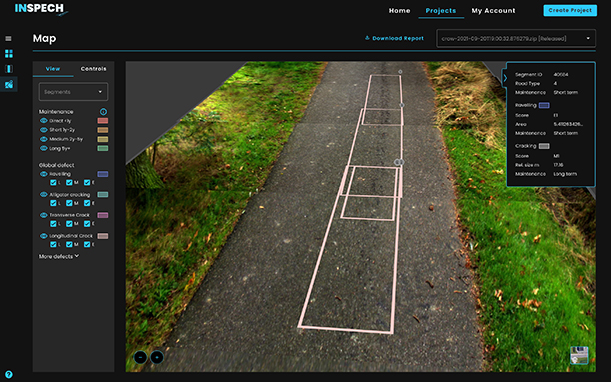 What others say about Inspech
Thanks to Inspech's digital road inspector, we can now deliver full reports within days, which previously could take up to five weeks for a single road. Jeroen Bleeker, Manager at Unihorn
Inspech performs the same as a trained and certified human inspector. It's like having a giant team of inspectors running a marathon. Mark Zwart, Owner at AMVision
Inspech is looking for partners!
We work with domain partners to resell automated road inspection as a service in local markets
Is your company performing road inspections?
Are you looking to rapidly scale your business at lower costs?
Does your client portfolio include road authorities, road construction companies,
councils and (local) governments?
© 2021 INSPECH Automated Road Inspection

Unihorn | Scharwoude 9 | 1634 EA Scharwoude | +31 (0) 229 547 850
BrainCreators | Prinsengracht 697 | 1017JV, Amsterdam | +31 (0) 203 697 260